As one of Edinburgh's most famous offspring, Robert Louis Stevenson (henceforth RLS, I keep misspelling "Louis") left his mark on the city in many ways. If you're here for the Fringe and looking for literary inspiration, we've picked out a few of our (and his!) favourite places in Edinburgh, from the Royal Mile to the Firth of the Forth
Makar's Court
Hidden away in the depths of the Royal Mile is a small courtyard, decorated with stones dedicated to some of Scotland's greatest writers. There are flagstones for writers of all eras and genders, from 1400s poets to literary icons of the 20th and 21st centuries. The only rules? You must be Scottish, and you must be dead. RLS' stone is not immediately obvious upon entry into the courtyard – you have to travel past many of the others to find it nestled beneath a streetlamp at the bottom of some steps. It contains one of his finest quotes, written from many miles away as he convalesced from an illness. As a fellow exile of Edinburgh (and frequent returner), I have to agree.
The Writers' Museum
Unlikely to be one of RLS' favourite Edinburgh haunts as it was completed sometime after his death, but the Edinburgh Writers' Museum contains a wealth of information on three of its most famous writers: Robert Burns, Walter Scott and RLS himself. The building dates from 1622 but was donated to the city in 1907 to be turned into a museum. Although slightly lacking in female input (we see you, Susan Ferrier), it gives context to the lives of Burns, Scott and Stevenson and is a must see for any book lovers.
Entry is free (donations suggested) but the building's opening times have been affected by restrictions so do check ahead of time before travelling over.
New Town
RLS moved to 17 Heriot Row with his family in 1857, and spent much of his childhood in the beautiful Georgian New Town. It's worth a visit to nearby attractions such as the Georgian House (owned by the National Trust of Scotland and situated in Charlotte Square) to get an idea of what life would have been like for the relatively wealthy inhabitants of New Town – you can also wander through Queens' St Gardens where locals would have taken the air. There is a tiny islet in the pond in the Garden which is often said (without anything to substantiate it particularly, but that doesn't mean it isn't fun) to have inspired the eponymous Treasure Island in his most famous novel.
Deacon Brodie's Tavern
Deacon Brodie (1741-1788) is something of a legendary figure in Edinburgh – a man who was reputable and upstanding by day, but criminal and deceiving by night. Much of what is written about him is likely to be speculation or embellishment on the facts, but he remains an enduring icon of the city and has both a tavern and a cafe dedicated to him on the Lawnmarket. RLS actually owned a cabinet made by Deacon Brodie over a century later.
The popular belief is that his double life inspired RLS to write The Strange Case of Dr Jekyll and Mr Hyde. However, competing theories have sprung up around RLS' use of medication and his own struggles with health. Why not visit the two establishments and decide for yourself?
The Hawes Inn
Moving further afield, if you have time you may wish to travel to the Hawes Inn in South Queensferry. With stunning views of the bridges and excellent food (I recently sampled their chips), it's worth a visit on its own merits. However, the Inn also has a strong literary connection as it features prominently in another seafaring novel by RLS: Kidnapped!. RLS was in fact staying there personally when he began writing the novel, and the Inn still has a small mural dedicated to the events of the novel in tribute.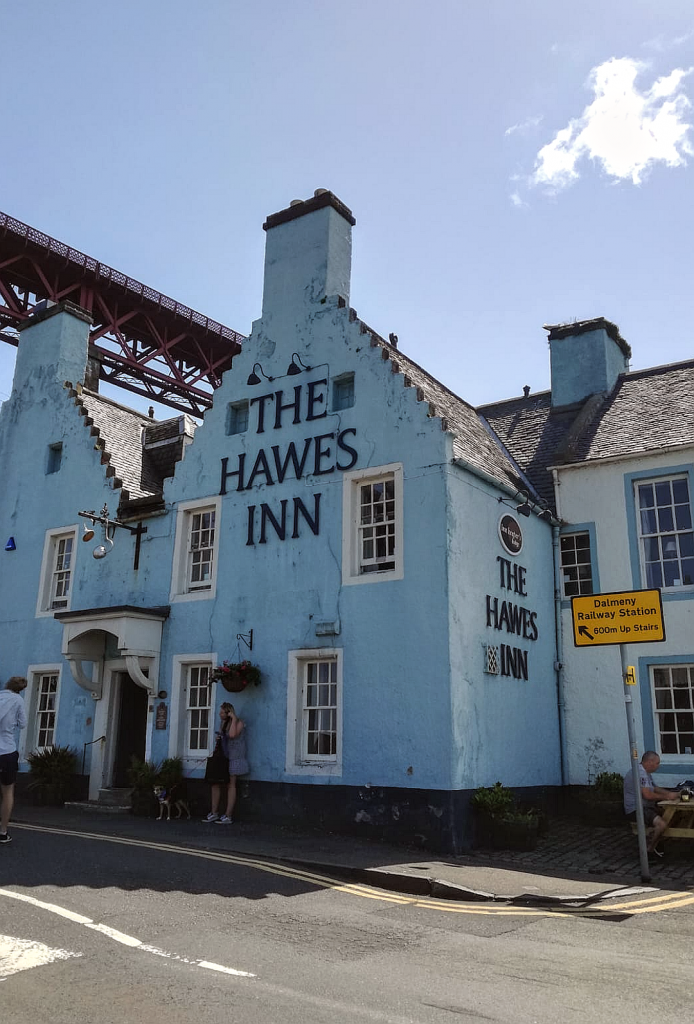 And further afield…
Can't quite reach the Fringe this year? Not a problem. There are various other notable places across the UK and beyond that share in RLS' remarkable literary story. These include:
Cockermouth in the Lake District – visited and written about in Essays of Travel (1905)
Ballachulish in the Highlands – visited and used as inspiration for Kidnapped (1886)
Bournemouth, home to RLS and his wife Frances between 1884-1887. It was here that several of his most famous literary works were published, and where he began to be taken seriously as an author
London was an oft-visited place and provided the setting for several very famous novels, including Jekyll and Hyde (1886) and New Arabian Nights (1882). Legend has it that RLS (also a trainee barrister) was deathly bored during a dinner and lecture at the Middle Temple when his attention was caught by two of the paintings in the Dining Hall, dedicated to "Josephus Jekyll" and "Robertus Hyde", judges elected to the bench in 1717 and 1665 respectively.
RLS also travelled very widely across Europe – why not see if he wrote something pithy but disparaging about your home town? This website has a treasure trove of information about his life and travels.